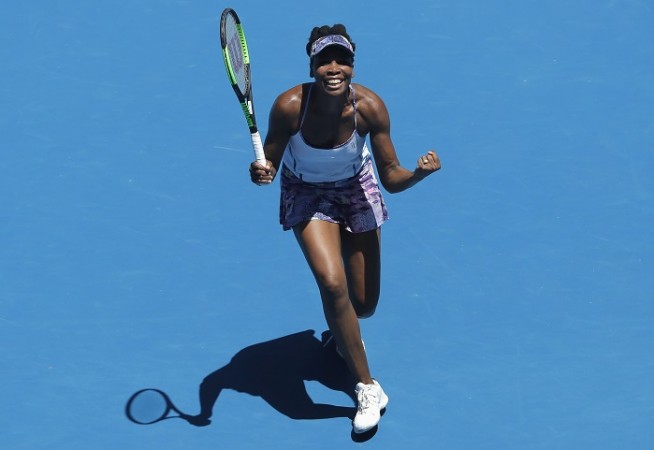 Melbourne, Australia – The first Australian Open quarter-final started at lunch for locals of Melbourne, supper time for Canadians, but in the end Venus Williams had Anastasia Pavlyuchenkova for lunch on Rod Laver Arena. The 36-year-old veteran wound back the clock to beat world No27 Anastasia Pavlyuchenko in straight sets, 6-4, 7-6 (7-3), and set up the semi-final appearance so unlikely that if she wins it and then her next outing, they should honestly make her a bigger trophy.
This match-up was no cinch. Over the past week Pavlyuchenkova had already made short work of higher-ranked seeds than Williams in the form of Elina Svitolina and Svetlana Kuznetsova, but the American knew her adversary had also never progressed beyond this point in a grand slam in 10 years on the tour, whereas Williams is a dab had at grand slam finals in this her third decade of them.
Such nous told in this encounter. At 4-4 in the first set both players had been serving as poorly as the other, giving away a pair of breaks each, but it was Williams who held her nerve when it mattered, taking the first set 6-4 in 39 minutes. By then she had hit 13 winners to five, advancing to the net with relish.
Very little of the remarkable tension and sense of struggle could be read from the polite murmurs in the stands. Another by-product of becoming part of the furniture is that Williams no longer fills stadiums. This is a career of two halves. In the last nine years Williams has reached only one grand slam final (2009 at Wimbledon) in 29 attempts. In the nine years prior she claimed seven titles and featured in five other finals.
In the third game of the second set Pavlyuchenkova broke, but got a little cute in her own following service game and lost it when Williams whipped a quite glorious double-handed backhand winner across court.
At 3-3 and 0-30 on serve, the American looked vulnerable, stomping both feet in quick succession to remind herself to move, but with a succession of forehand errors conceded the break which should have handed Pavlyuchenkova the set. The problem was that the Russian then played the reputation instead of the ball, so Williams broke straight back.
All of a sudden net rolls went the veteran's way, and even straining as she looked into the sun, she held with ease to make it 5-4 and pile unbearable pressure on the Russian's shaky serve.
Somehow Pavlyuchenkova survived to keep it on terms, so Williams produced a love service game so emphatic she may as well have walked over and packed Pavlyuchenkova's bag for her at the change of ends. Utterly possessed from there, Williams hammered an vintage backhand winner down the line and its resonance surely played a role in the Pavlyuchenkova double fault that followed.
At 0-30, up 6-5, Williams needed to bury the content but couldn't, and also didn't seem thrilled by the prospect of the tiebreak that followed – a fear that proved well founded when Pavlyuchenkova raced out of the blocks for a 3-1 lead.
Nerves jangled, line calls were challenged, but Venus could not be denied, taking the match in an hour and 47 minutes of admirable if not always joyous tennis. While her jerking, limb-flailing style has never been pretty, everything Williams has done in Melbourne so far this fortnight has been timelessness and grace personified.
The whole crazy scene was best summed up as Williams levelled the tiebreak at 3-3 and a lone voice in the stands broke the tension by bellowing, "C'mon Venus, let's see the magic." This run of hers – at her 17th Australian Open – is nothing less. On the way off the court Williams wrapped her arms around herself at the sheer brilliance of it all, and nobody present could fault the sentiment.
In the day's other women's quarterfinal, Coco Vandeweghe blasted her way into her first grand slam semi-final with a dominant display of power tennis to destroy French Open champion Garbine Muguruza 6-4, 6-0.
The 25-year-old American, who was equally as impressive in dispatching world number one Angelique Kerber in the previous round, controlled the match from the seventh game of the first set when she achieved her first break of serve.
Having taken 56 minutes to wrap up the first set, Vandeweghe raced through the second, as she blasted winners from both sides of the court and did not give Muguruza a break opportunity until she was serving for the match.
Vandeweghe, whose previous best grand slam tournament was making the quarter-finals at Wimbledon in 2015, will now meet compatriot Venus Williams in Thursday's semi-final.