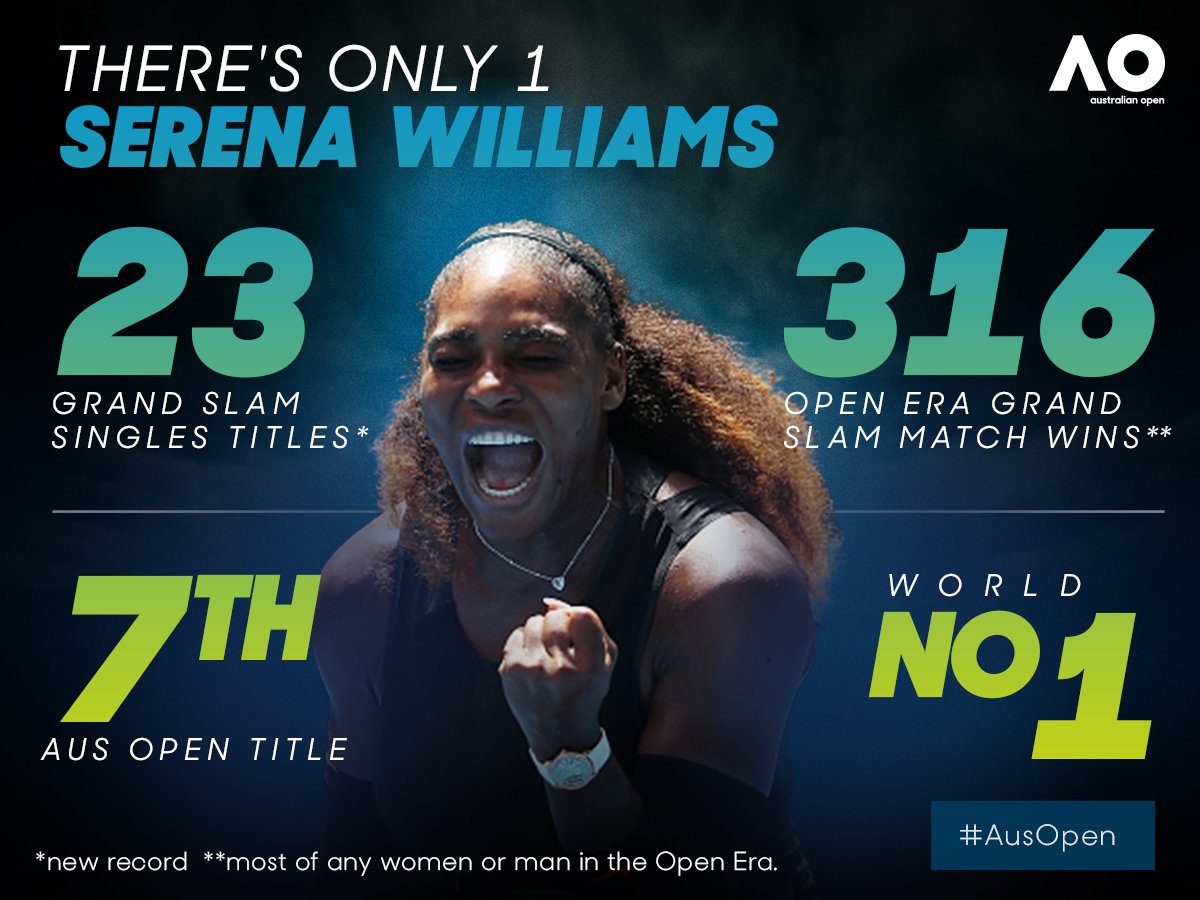 MELBOURNE, Australia – Serena Williams won her 23rd Grand Slam title with a 6-4, 6-4 win over sister Venus Williams at the Australian Open, earning an Open Era record in tennis.
Williams, 36, had equaled Stefanie Graf's record with her 2016 Wimbledon triumph. The German's original 22-slam mark had stood since the 1999 French Open.
Serena now has seven Australian Open titles, making it her joint-most successful Grand Slam alongside Wimbledon. She has also won six US Open titles and four at Roland Garros.
The sisters were facing off in the 28th match of their storied rivalry, and their ninth Grand Slam final, but the first since 2009.
Venus and Serena mowed throught the draw playing vintage tennis to book their first meeting in Melbourne in 14 years, when Serena took a three-set thriller to capture the first of two Non-Calendar Year "Serena" Slams.
Saturday's match was similarly tense, with both sisters aware of what was on the line; a win for Serena would not only break the Open Era record but also restore her atop the WTA rankings after dropping to No.2 last summer at the US Open.
Venus and Serena exchanged breaks to start the match, with the No.2 seed settling in sooner to take the opening set behind seven aces and 16 winners.
The crowd did its best to lift Venus in the second set in the hopes of seeing a decider, and the Americans continued performing at a high level throughout the 81 minute match.
But Serena, who came into the match with a 20-0 record after winning the first set in Grand Slam finals, proved too strong in the end, breaking serve just once in the seventh game to serve out the record-breaking victory, hitting a total of 27 winners to just 23 unforced.
Serena improved her overall head-to-head against Venus to 17-11, and an impressive 7-2 in Grand Slam finals – the only two losses to big sister coming at the 2001 US Open and 2008 Wimbledon Championships, which was, incidentally, the last time the Williams sisters and Roger Federer and Rafael Nadal all met in the same major final.
The win was Serena's 316th at Grand Slam tournaments, improving on her already-record total, and returns her to No.1 in the world, usurping Angelique Kerber.
As for Venus, the result is still her best at a major tournament in seven years, and brings her back to within 200 points of returning to the Top 10.